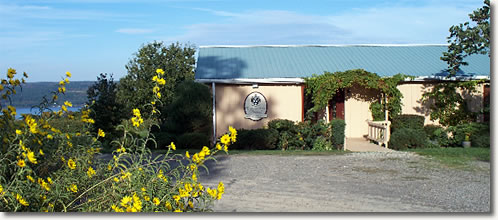 If you would like to order wine, we can ship 2, 4, 6, or 12 bottles (mix or match). There is no case discount on 2, 4, or 6 bottles. The 12-bottle case prices quoted on our Wine List include the case discount. Sales tax is included in our bottle price. There is a packing and FedEx shipping charge. We can ship direct to consumers only in permitting states and within New York State.
Please send us an e-mail telling us which wines you want or ask us to call you to take your order. You can also call us at 607-387-9619 to place your order. We'll calculate the cost and let you know the total. We accept Visa and MasterCard.
Gift Certificates
Customized gift certificates for Frontenac Point wine are available in any amount.
Prop 65 Warning
On August 30, 2018, newly-amended Prop 65 clear and reasonable warning regulations that apply to any winery that sells and ships their products to consumers in the State of California came into effect:
WARNING: Drinking distilled spirits, beer, coolers, wine and other alcoholic beverages may increase cancer risk, and, during pregnancy, can cause birth defects. Read more about California's Proposition 65 warning.