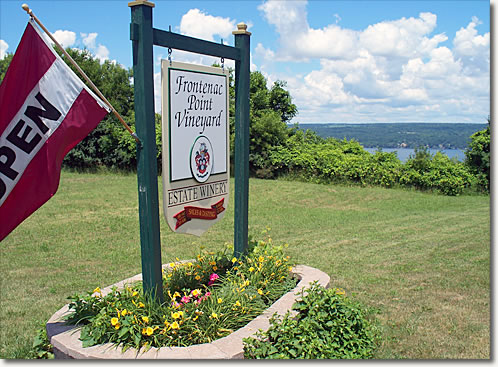 We invite you to discover what is unique at Frontenac Point. You can savor our wines in our European-inspired hospitality room and enjoy a 15-mile panoramic view of Cayuga Lake. The 10-foot-tall Stay Sail, a kinetic sound sculpture that was installed on the bow of the winery deck, beckons you to bring food, relax under the canopy, and enjoy the lake and vineyard view.
Temporary Hours of Operation
We are temporarily closed and will advise via our mailing list when wineries are permitted to safely reopen. Please email us to be added to our mailing list.
During this time we are shipping wine direct to consumers within NYS and other states we have permits to ship into. We also personally deliver (at no additional charge) within a 20-mile radius of the winery. We can accommodate orders for four (4) or more bottles. Place an order for wine.
Please don't hesitate to call 607-387-9619 or email us if you have questions.
Tasting Fees
Choose five wines from our traditional list for $5, or choose the Select Dry White Flight for $8 or Premium Dry Red Flight for $10. See our News and Notes page for information on the flights. We recommend sharing a flight tasting because of the additional pour.
Custom and Private Tastings
Custom tastings and tours are available at a cost of $8 per person. Call 607-387-9619 or email us at least 48 hours in advance to make a reservation. Private tastings are also be available.
Due to limited space at our bar, groups of 8 or more should call ahead to see if we will be able to serve you adequately.