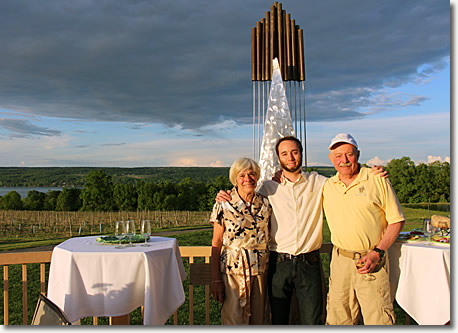 In 1976, after working for the New York State government in Albany for eleven years and assisting with the passage of the farm-winery bill, Jim Doolittle (Cornell University – CALS '67) and Carol Doolittle (Good Counsel College/Pace University '68) decided that they wanted to have their own winery. "It sounded like fun," and so they embarked upon an adventure. In 1978, they purchased a promising site with a panoramic view of Cayuga Lake, and planted their first three acres of vines. In 1982, Frontenac Point Vineyard became New York farm-winery #44, producing only 400 cases of wine.
Since then, Frontenac Point has experienced great success, but the Doolittles have also worked to maintain the winery's small size and hands-on approach, currently producing just 2000 to 3000 cases a year. Their son Lawrence, a graduate of Rice University in Texas, now carries this tradition into the next generation.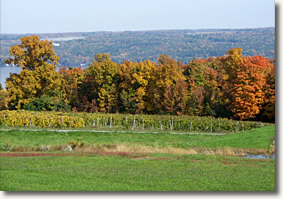 Frontenac Point is on the west side of Cayuga Lake, and all of the grapes used to make our wines are grown in the winery's own 18-acre vineyard, on slopes of low elevation, protected by a microclimate influenced by Ontario and Cayuga Lakes. This provides a long growing season during which the finest grape varieties ripen perfectly to produce world-class wines.
The combination of estate-grown grapes, Cazenovia and Aurora silt loam soils, climate, and Frontenac Point's winemaking techniques produces wines that are truly appellation Cayuga Lake.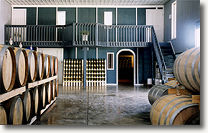 Frontenac Point's focus is on the production of dry wines, using barrel fermentation and other modern processes to permit the wines to gain complexity. The Doolittles are committed to the notions that change is good and that just because there's a traditional way of making wine, that doesn't make it the only way. In the Frontenac Point vineyard, there are both Vinifera and old-world hybrid vines. Our reds include vintage dated Pinot Noir, Maréchal Foch, Chambourcin, and Proprietor's Reserve as well as an earthy Stay Sail blend. Our white wines include a dry Riesling, Chardonnay, Seyval Blanc, and several blends. Our rosé wines are made from "free-run" juice or "whole cluster press" of the red grape Chambourcin. We also currently have a rosé Brut Méthode Champenoise.
Quarterly E-Mail
Email us if you want to be put on our quarterly e-mailing list to get the latest news first!