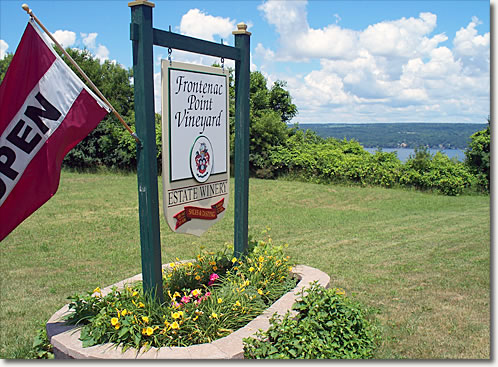 We invite you to discover what is unique at Frontenac Point. You can savor our wines in our European-inspired hospitality room and enjoy a 15-mile panoramic view of Cayuga Lake. The 10-foot-tall Stay Sail, a kinetic sound sculpture that was installed on the bow of the winery deck, beckons you to bring food, relax under the canopy, and enjoy the lake and vineyard view.
Tasting Fees
Choose five wines from our traditional list for $4, or choose the Select Dry White Flight for $8 or Premium Dry Red Flight for $10. See our News and Notes page for information on the flights. We recommend sharing a flight tasting because of the additional pour.
Custom and Private Tastings
Custom tastings and tours are available at a cost of $8 per person. Call 607-387-9619 or email us at least 48 hours in advance to make a reservation. Private tastings may also be available.
Hours of Operation
May – June
Sat: 10:30 – 5
Sun: 12 – 5

July – August
Fri: 10:30 – 5
Sat: 10:30 – 5
Sun: 12 – 5
Mon: 11 – 4

September – October
Fri: 10:30 – 5
Sat: 10:30 – 5
Sun: 12 – 5

November (Until Nov 15th)
Sat: 10:30 – 4:30
Sun: 12 – 4:30
Please call 607-387-9619 for additional information.